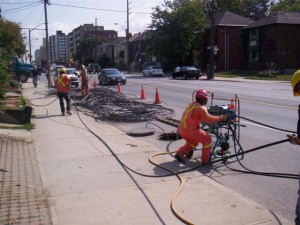 Installations by either pulling and/or via aerial routes are handled in traditional methods. Pulling is usually installed using a take up trailer with various wheels and breakaway swivels.
Sentrex invested into a blowing machine, so that when installing fiber into an inner-duct structure
it is able to blow it in instead of pulling. This has many advantages as it puts no stress on the fiber at all and allows for great lengths of installation compared to traditional methods.
We also use the latest in state of the art equipment for splicing, testing and installing. With Sumitomo fusion splicers, Fitel fusion splicers, Northern splicer, test equipment from Exfo and Wavetek, enables us to ensure the quality of our installation.
Twelve Splicers on the road. Three with more than ten years experience, Sentrex has one the most competent group of splicers that are able to splice in a variety of locations. Their exposure to live plant and hundreds of 'hot' cut overs allows them to splice in different systems throughout Ontario. Our splicers are dedicated and willing to respond to all outages they are called upon.