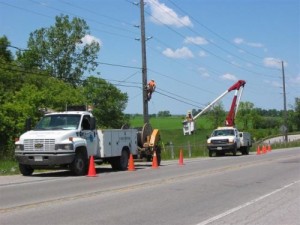 At the present time we operate multiple very experienced line crews, completing projects throughout the Ontario region. These crews have fifteen (plus) years of installation experience throughout the GTA and it's surrounding areas. Our crews have handled fiber counts from a 24 count to an 864-count fiber in all aspects of installations. They are also certified to install in/on both Bell Canada and Hydro Poles and confined spaces.
With the capabilities to install new strand on wooden and/or cement poles. The ability to lash, overlash, de-lash front and backside of poles. They have also crossed all the major 400 series Highways surrounding the GTA.

With our Emergency Restoration programs in place, these crews are most likely to be on sight first. Their familiarity with the urgency of restoring damaged fiber and the understanding of the time sensitive cost issues, they are able to assess any situation and deploy a temporary and/or permanent restoration, This restoration, of course, would be fully authorized by the customer.