Our Construction Divisions has over 90 staff members are equipped and trained to complete all aspects of cable and fiber installation, whether underground, aerial, or in existing utility structure.
AERIAL CONSTRUCTION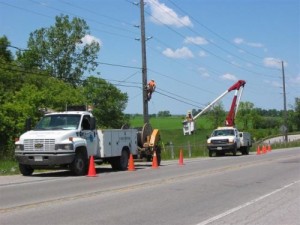 At the present time we operate multiple very experienced line crews, completing projects throughout the Ontario region. These crews have fifteen (plus) years of installation experience throughout the GTA and it's surrounding areas. Our crews have handled fiber counts from a 24 count to an 864-count fiber in all aspects of installations. They are also certified to install in/on both Bell Canada and Hydro Poles and confined spaces.
With the capabilities to install new strand on wooden and/or cement poles. The ability to lash, overlash, de-lash front and backside of poles. They have also crossed all the major 400 series Highways surrounding the GTA.

With our Emergency Restoration programs in place, these crews are most likely to be on sight first. Their familiarity with the urgency of restoring damaged fiber and the understanding of the time sensitive cost issues, they are able to assess any situation and deploy a temporary and/or permanent restoration, This restoration, of course, would be fully authorized by the customer.
UNDERGROUND CONSTRUCTION
We also boast the use of 12 directional boring machines along with various underground crews. These units will allow for trenchless installations with such applications as installing multiple conduits under concrete and asphalt.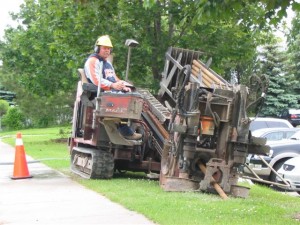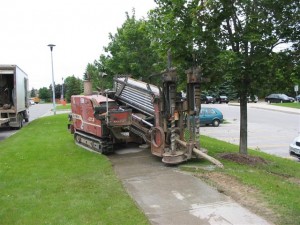 These directional boring crews have over ten years of experience. Working in the communication business for a majority of the projects each machine will install on average one hundred meters a day. The conduit on average will be from 100mm to 300mm in diameter. Placing large pre-cast manholes, poles and building multiple, customized sites, is achieved easily by this diverse group.
To complement our directional boring machines, we also have a large fleet of construction vehicles allowing us to perform with excellence for any job. Backhoes, diggers, trenchers, we have the equipment and the expert staff for all types of Utility works.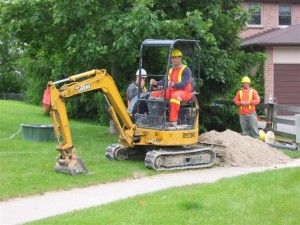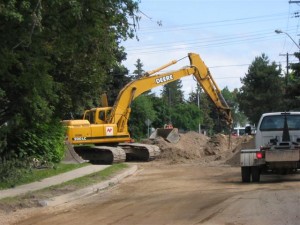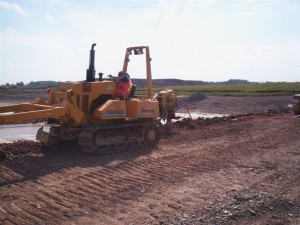 For sensitive areas where the ground must be removed and the ability to use typical construction power equipment can not be done, we also have a group of hydro-vac excavation equipment. With the use of high pressure water and a large vacuum, we are able to create very accurate holes, exposing utilities and structures without any damage. Where many other companies have to contract this equipment to complete some jobs, we have this available to us everyday, anytime, any job.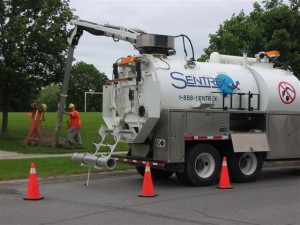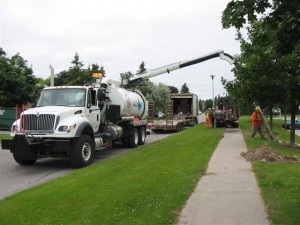 FIBER CONSTRUCTION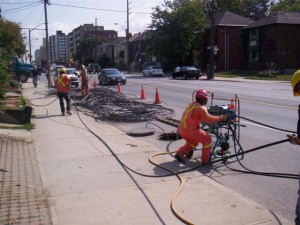 Installations by either pulling and/or via aerial routes are handled in traditional methods. Pulling is usually installed using a take up trailer with various wheels and breakaway swivels.
Sentrex invested into a blowing machine, so that when installing fiber into an inner-duct structure
it is able to blow it in instead of pulling. This has many advantages as it puts no stress on the fiber at all and allows for great lengths of installation compared to traditional methods.
We also use the latest in state of the art equipment for splicing, testing and installing. With Sumitomo fusion splicers, Fitel fusion splicers, Northern splicer, test equipment from Exfo and Wavetek, enables us to ensure the quality of our installation.
Twelve Splicers on the road. Three with more than ten years experience, Sentrex has one the most competent group of splicers that are able to splice in a variety of locations. Their exposure to live plant and hundreds of 'hot' cut overs allows them to splice in different systems throughout Ontario. Our splicers are dedicated and willing to respond to all outages they are called upon.
HYDROVAC CONSTRUCTION